Get unlimited refferal bonus everyday
1.BONUS OF DOWNLINE'S FIRST DEPOSIT
If your downline makes a first deposit with Rs 100 and above, you will get the following bonuses:
2.Agent "lightning Invite!"
Invite 3 new members on the same day, the recharge amount is 200Rs + :
When the friends you invite exceed 10 people + deposit every day:
4.Team rebate bonus (permanently valid)
Every downline of you invited and placed bet (regardless of winning or losing the bet), you will get a rebate bonus that is distributed automatically every day at 02.00-04.00 AM.
The commission based on your agent level.
You will get the rebate commission up to downline Tier 4 :

1:When you invite a friend, you can encourage him to become a agent (Everyone can be agent with same agent commission calculation method )

2: For example:

You invite Andi, then Andi is your Tier 1, Andi invite Jack, then Jack is your tier 2, Jack invite Lisa, then Lisa is your tier 3, Lisa invite Tom,Tom is your tier 4. (You can permanently get all downline team rebate bonuses)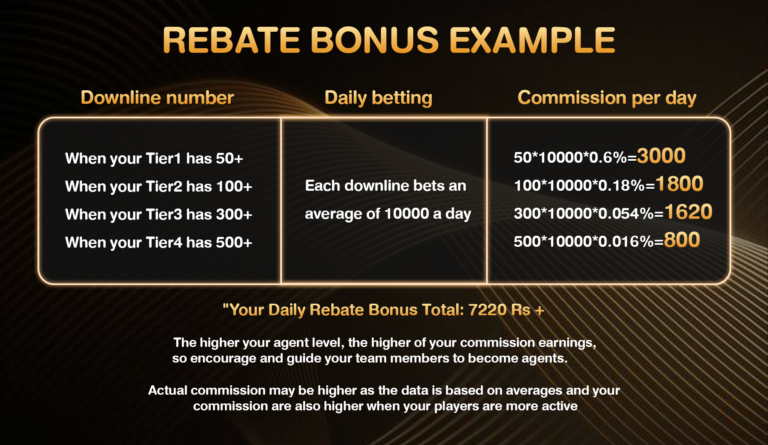 Click PROMOTION, then click COPY LINK to copy your own invitation link. After you get your invitation link, share it to your invitees
– Each activity above is only for real Big Daddy Game(BDG) members
– Each member is required to completed personal bank data in the withdrawal menu
– Each member involved in illegal activities is strictly prohibited.
– SAME phone number, bank account details, email address and IP address unable to claim the bonus.
– Big Daddy Game(BDG) have the right to freeze accounts or cancel payments if found illegal / fraud activities committed by individual or groups in taking advantages on bonuses. (final bonus decision belongs to Big Daddy Game(BDG) )